I always purchase two yards of material just in case I make a mistake on a piece or two.
First get a paper and pen draw out our sewing machine I just make a rectangle box I measure the bottom back of the machine it is usually wider then the top. Now my machine is 11 inches so I make it 11  3/4 always adding half an inch to for sewing seams and a quarter of an inch  for hemming. Then I measure the distance from bottom top and write that down then I measure across the back top of the machine. Now my  Laura Ashely is wider at the bottom then the top. When you go to cut your material make sure you draw out the measurements on the material. Make sure you do center the top with the bottom so that when you cut you will be cutting on an angle on both sides not just one side. Now I usually take this piece scotch tape it to the back of the machine. Then I measure the top of the machine how wide at the back how long it is and how wide it is in the front now this will also be a piece that will have to be centered and cut at an angle on both sides. Unless your machine is like my Pfaff which is a nice squared off rectangle these are the easiest to make. Now sew the wide end or back end of the material to the back top piece set on the machine. Now measure how long your machine is and height of machine in the front. Once you cut that piece sew it to the top and back piece. Now you will want to make sure your corners are pushed out I just use a sewing machine wand or you can use one of those sticks you can buy to do this. Now measure the back how long how high cut that material and sew it to the back. Now that leaves the front measurements how wide at the top and bottom and height. Remember if the top is narrower then the bottom to center the piece by cutting at an angle on both sides of the material now sew the front on. (Don't forget to add an extra quarter of an inch at the bottom of each piece for hemming.
I now will hem the material if required usually does I just turn it under by a quarter of an inch. Now if your material is to short because you didn't make it low enough on the machine I just add a row of ruffles to the sewing machine cover.
You can add front and back pockets to the machine cover if you wish. I found that a pocket that is wider then higher looks great I usually add an embroidery design tot he pocket.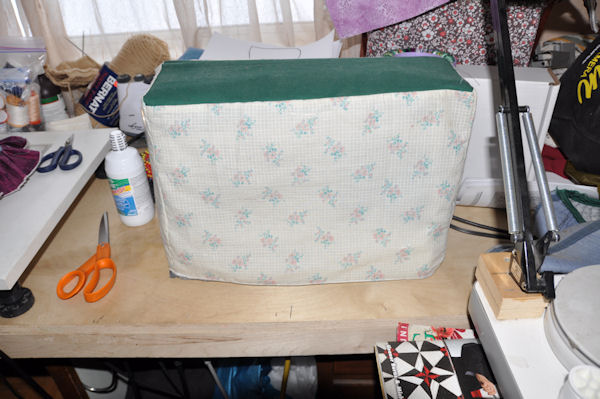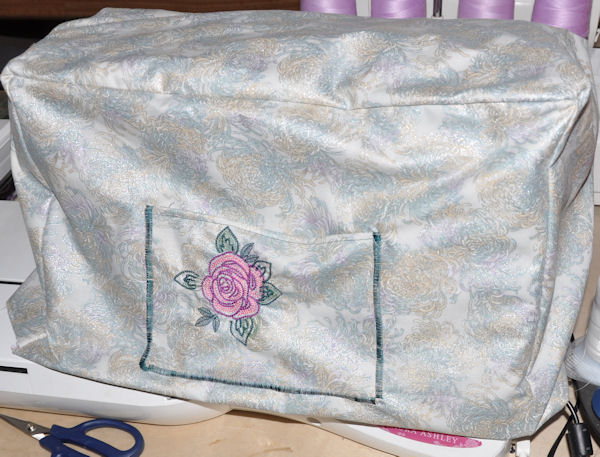 I made all three of these covers just by measuring the machine. The last one with the rose flower on it is not completed yet. Sharon